From tables to barware and everything in between! The best wedding rental checklist will ensure that your special day has every detail at the ready.
Figuring out what to rent for a wedding is an oft-forgotten part of planning. Without sticking to a wedding rental checklist, your guests won't have chairs to sit on, glasses to drink from, and forks to eat with. To help keep costs down, these items (and many more!) are usually rented, rather than purchased, from a trusted full-service wedding rental company or may be included with your venue or catering packages. Either way, you should finalize your event rentals about two to three months before your wedding. This often requires a trip to your rental company's showroom so you can see and feel all of your supplies. This wedding rental checklist will ensure that you'll have all of these must-have items to ensure your big day is a success.
Tents
You might have heard just about everyone ask, "Do you have a Plan B?" If you're hosting an outdoor wedding, it's a good idea to have a tent rental at the ready in case of inclement weather—and that doesn't just include rain. Your guests should be kept comfortable and shielded from blazing sun or billowing winds. But that's not all—a marquee entrance tent, gutters, a stage for your musicians, climate control, clear sides, and pole covers may be needed, too. In some cases, you may need a generator (more on that below) and a separate catering prep tent. Are you a fan of draping fabric across the tent's ceiling? Include that as well. A reputable and experienced tent rental company can help you decide what you need. Keep in mind that tent rentals are very costly to protect your guests. Always ask your venue what their Plan B is for your ceremony if weather is not cooperating.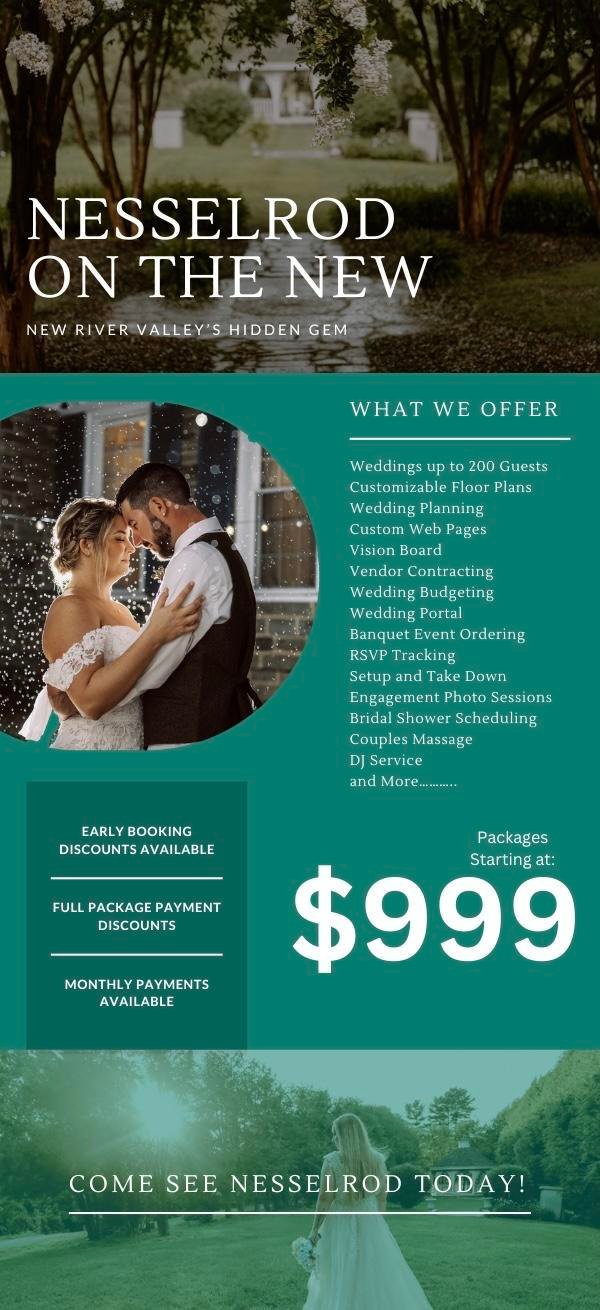 Tables and Chairs
Obviously, tables and chairs an important part of your wedding rental checklist for you and your guests to sit during the ceremony, cocktail hour, and reception—but don't forget about other spots throughout your wedding where tables and chairs are necessary. Your musicians need a place to sit and rest their instruments. Add another table for your gifts and cards, another for your seating assignments, another for your cake and desserts, and another for your favors. You also may be surprised at how many different types of chairs and tables are available, whether you're going for long farm tables with cross-back chairs, classic round tables with Chiavari chairs, or modern square tables with Ghost chairs. If you're opting for more affordable folding or banquet chairs, chair covers may also be necessary. Work with your venue coordinator and party rentals company to figure out where tables and chairs will be needed based on your guest list and other details of your event.
** Nesselrod will always have tables and chairs for your ceremony and reception **
Dance Floor
Many wedding venues will have a dance floor included, but for those that don't, you'll need to include it on your rental checklist. Depending on how many guests are attending, you'll be able to determine the size of your dance floor—industry standard dictates around four-and-a-half square feet per guest, figuring that about half of your guests will be dancing at the same time. Wood is the most common type of dance floor available, but there are other options.
Electricity
If you're hosting a backyard wedding or a wedding in a rural venue, you may need to rent a generator. Think about how much electricity it requires to power your wedding. Your event space needs it to turn on the lights, your caterer needs it cook and bake, your DJ needs it to play music, and your maid of honor and best man needs it to give their toasts via a microphone and set of speakers.
** Nesselrod will always have ample electricity for your ceremony and reception **
Linens and Napkins
When it comes to tablecloths, napkins, and other table linens, there are a wide variety of styles and fabrications out there—pick the ones that suit your overall wedding style and theme the best. Pricing varies widely, so feel mix and match more expensive table linens (hello, sequined table cloths!) with more budget-friendly items. 
Dinnerware, Flatware, and Glassware
Place settings are totally crucial. How else will your guests be able to eat and drink during your special event? When it comes to thinking about wedding rentals, don't forget chargers and serving plates, forks, knives, spoons, red and white wine glasses, water glasses, champagne flutes, highball glasses, rock glasses, and coffee mugs. And maybe something extra special for those signature drinks like mason jars. 
Floral Accoutrements
Fresh, lush flowers will go a long way to make your wedding day look amazing, but what do you put them in? That's where your florist comes in. Many florists provide rental items to support their arrangements. Opt to rent arches, canopies, aisle marker stands, vases, vessels, votive candles, lanterns, candelabras, etc. to bring your wedding's floral design to life. 
Lounge Furniture
Give your guests a quiet area to rest their feet and chat. Arrange a family room layout with vintage couches, armchairs, coffee tables, maybe a rug, and more.
Restrooms
Note: This should only be included on your wedding rental checklist if you're hosting a backyard or tented event where restrooms aren't easily accessible (or if you'd prefer your guests not use the restrooms in your home, in the case of a backyard wedding). Restrooms are obviously a requirement, and rented restroom trailers are usually quite spacious and well-appointed.
** Nesselrod's Pavilion has restrooms for your guests**
Miscellaneous Items
Talk to your vendors (particularly your caterer) about other types of items you might need to add to your wedding rental checklist. For example, bartenders need coolers for cocktails to reach the perfect temperature, your waitstaff may need pitchers to serve drinks, and if you're hosting a buffet or family-style meal, you'll need serving dishes and more.
You can click on the link below to see all available wedding rental items you would need.
Event Rentals