Whether you're opting for classic round tables or a more modern lounge arrangement, we've got ideas and options for every wedding seating style.
If you're in the midst of planning your wedding, you've probably already made a handful of decisions—and have a checklist of more decisions to make before you say "I do." It's all very normal and part of the process, but it can be overwhelming, to say the least.
As you get closer to your actual wedding date, one of the major topics of discussion revolves around seating arrangements, or where guests will sit during the reception. It's never too early to start thinking about it, according to Katelynn Zaccaria, co-owner and planner at Olive Street Events in Philadelphia, as you will need to account for an additional expense if your venue does not have the specific tables you want to use in-house. "Find out what your venue has to offer, and then you can start to source pricing from rental companies, that way, it's accounted for in your budget," she says. "Also, remember to ask about what linens sizes are included because if you go off the beaten path for tables, you will also need to factor in the accompanying linens."
While some couples opt for open seating, where guests select their own tables and seats, Claudia G. de Velasco, a wedding planner with A Day To Remember in Houston, Texas,  is a much bigger fan of assigned seating and tables because they're more organized and help prevent guests from experiencing the awkward "where should I sit" conundrum. However, as with any decision you make in regards to your wedding day, there are lots of options when it comes to assigned seating styles.
Here's a look at some of the most popular seating styles and tips on some of the best ways to seat-plan for each.
Round Table Arrangements
Round tables are the most timeless and classic arrangement for tables at a wedding, and remain the most popular choice today. "They are the perfect choice for a large ballroom and can typically seat eight guests per 60-inch table or 10 guests per 72-inch table," says Marci Guttenberg, C.P.C.E, C.W.P., owner, president and invitation consultant at An Affair To Remember By Marci, LLC in Fort Lauderdale, Florida. "This style lends itself to more conversation with those seated around the table, especially a smaller group of guests."
When deciding between round table sizes, Gutenberg suggests factoring in the table setting. "The more space you need for a table setting or a bulky chair (with or without arms), the more elbow room you should provide for the guests," she adds.
Rectangular Dining Tables
Rectangular dining tables are a great choice for weddings of all different styles, since they are as easy to find as round tables, yet offer a few contrasts, notes Kathryn Cooper, photographer and owner of Kathryn Cooper Weddings in New York City. "While there is generally less room for all the food in the middle, rectangular dining tables lend themselves well to more elegant celebrations featuring tall statement florals, candle displays, and more," she says. "Just make sure your guests can see through the displays and speak with the person on the opposite side!"
Mix & Match
Can't decide between round of rectangular dining tables for your wedding? Why not mix and match using both! "The mix and match table seating style is elegant, unique, and fun and works with most venue layouts and sizes and is a great option to choose for an eye-catching yet easy way to design a unique layout," says Sandy Hammer, co-founder and CMO of Allseated. The only obstacle that arises when selecting this seating method, according to Cooper, is that your florist and/or designer will have to come up with different decorations for each style table. This creates interest and variety from table to table, she adds.
Lounge Seating
Lounge seating requires couches and comfortable chairs, so it is often on the pricier side of things when it comes to wedding seating arrangements. However, if your budget (and space!) allows for lounge seating, Zaccaria highly recommends adding this in. "Creating little conversation areas for your guests not only looks great in the space, but your guests will thank you for that extra consideration!" she says. "Check with your local furniture rental companies to see what styles of lounge furniture they offer and what will look great in your space."
Cooper suggests making sure you have enough table space for food and beverages. "While lounge seating is undoubtedly comfortable, there is often less table space and the tables are so low that leaning over is uncomfortable, not to mention makes guests difficult to photograph." she says. "There is also no place to store items such as purses, coats, or baby diaper bags."
Serpentine
Although not a commonly used wedding seating style, serpentine seating can provide a beautiful visual to a wedding floor plan, notes Hammer. "Created typically with curved tables, this layout is usually seen for outdoor weddings and requires a good amount of empty space," she says. "If you don't have access to curved tables, however, it's possible to create this layout using rectangular tables, although doing so means accepting that there will be some gaps because of the tables."
Another thing to consider when it comes to serpentine tables is that your guests are often quite spread out and likely not near you, as the couple, nor where the speeches and dancing are taking place. Still, Cooper notes, it's hard to deny how classy and beautiful it looks with the right floral touches, place settings, and chairs.
Square Seating
Square seating can be a nice wedding seating style, especially if most of your guests are couples. "It provides an intimacy of a cabaret or restaurant and can fill up smaller areas of your reception room," says de Velasco.
In addition, Cooper points out that square seating is also a good practice for COVID-approved socially distanced wedding receptions, since guests tend to be seated farther apart as compared to other seating arrangements. The only drawback of the square seating style is that it ups the number of centerpieces, salt and pepper shakers, bread baskets and design arrangements. "Instead of requiring one of each of these table additions for every 6-12 guests, you'll need them for every four guests with square seating," she says. "Also, keep in mind that there will be a lot of turning around by one side or the other for any toasts or announcements."
U-Shaped
Cooper likes to see U-Shaped seating used for smaller, more intimate weddings as well as backyard weddings and any receptions happening under a tent. "Keep in mind that the couple will be the center of attention, and not everyone wants eyes on them every time they take a bite of food or grab a drink," she says. "If it's raining, dark out or you have under 50 guests, however, a U-shaped arrangement can really make it feel like an evening spent partying with close friends."
Family Style
This seating with long rectangular tables has become more and more popular over the last few years, especially with the rise of micro-weddings. "It's a neat look, and some long, thin spaces tend to lend themselves to that style over round tables," says Zaccaria. "Our recommendation would be to break up the tables with additional table numbers to assist guests in finding their seats more easily."
The only downside of family-style seating, she notes, is that it can make  it difficult for your guests to talk to anyone that isn't directly next to them or in front of them.
Rotating Couple
This seating style is also becoming increasingly popular for weddings and works well for any event, large or small. "It's an interactive alternative to a traditional sweetheart table (where you and your partner sit apart from everyone), you can rotate your courses by joining the various guest tables throughout the evening," explains Hammer. "This seating arrangement gives the couple more quality time to spend with loved ones and creates a more intimate environment for the celebration."
The best way to pull this off is to take the place of two people already seated at a table while they move temporarily to another, according to Hammer. "Although the couple may not get to sit at every table, they will be better able to interact with some of the guests rather than being locked into one table for the entire event."
All in all, whatever seating arrangement you choose will likely work out beautifully for your special day. It's also important to note that certain cultures have preferred seating preferences. If that's the case for you, be sure to communicate this with your vendors so that they're on the same page with what you're trying to accomplish.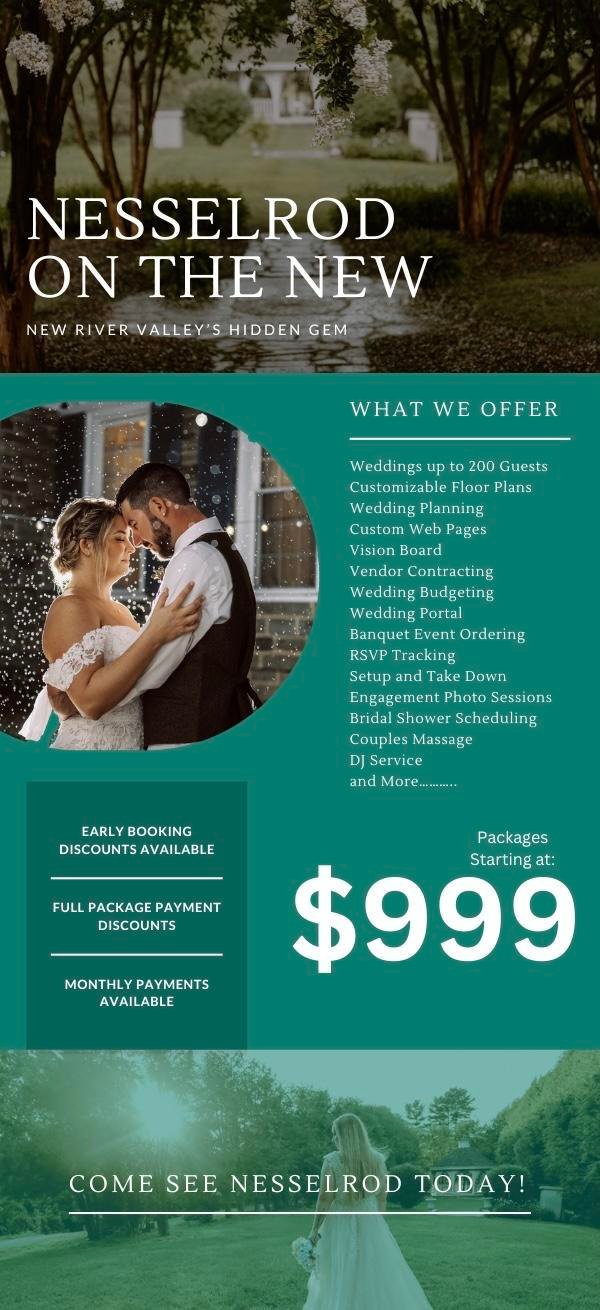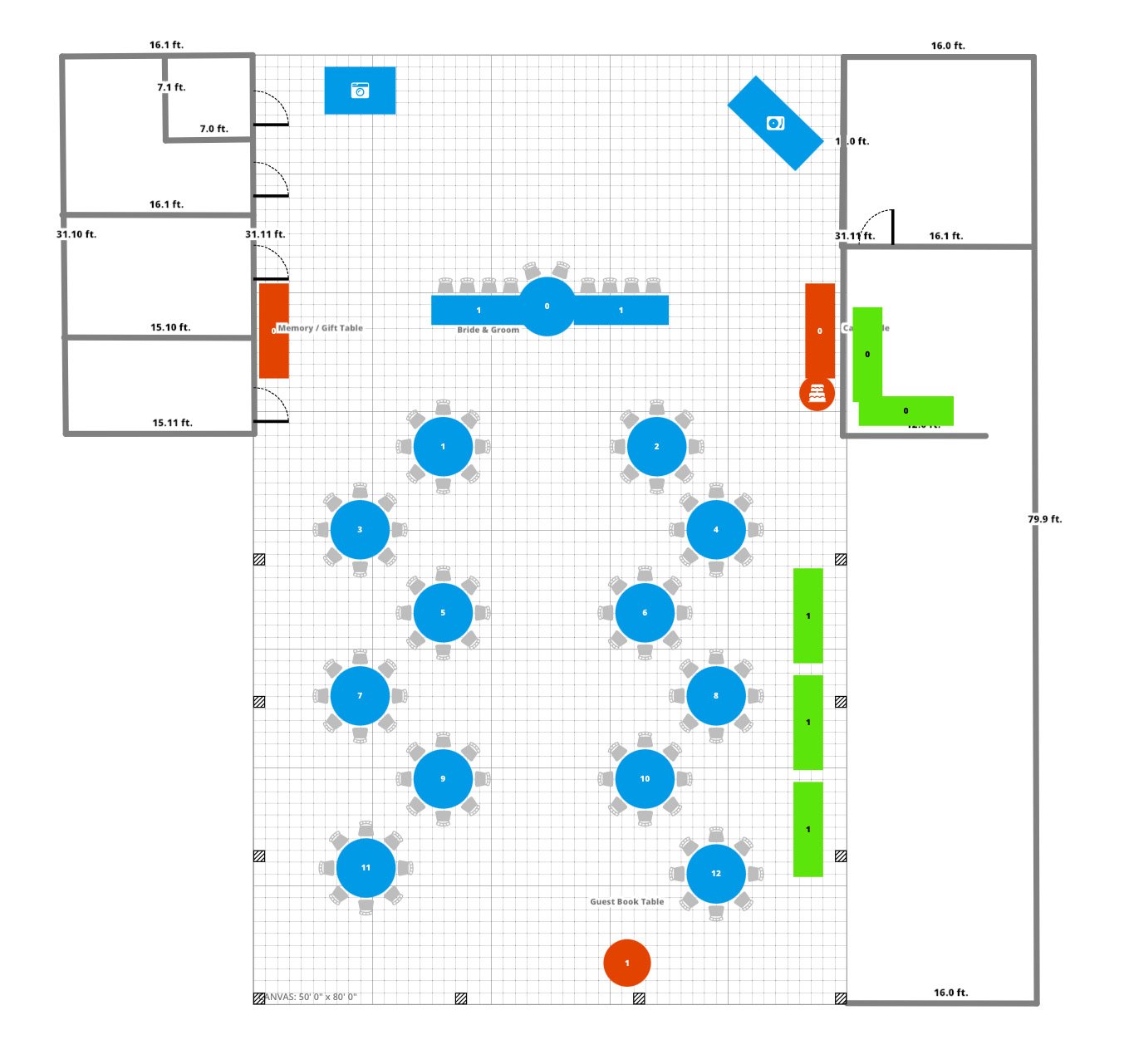 Nesselrod has easy tools so you can plan your seating and table arrangements. Move them around, add, subtract, assign seats, and more.