June, with its scorching heat and vacation vibes, might not be the most popular month for weddings, but it holds hidden charms and unique opportunities for creating a memorable celebration. As the days stretch long and the warm sun graces us with its presence, June weddings present a chance to explore creative ideas that will leave a lasting impression on you and your guests. Embrace the summer spirit and make the most of this slow month with our handpicked selection of the best things to do for your wedding in June.
Outdoor Extravaganza:
June's warm weather opens the door to breathtaking outdoor venues, from picturesque gardens and scenic beaches to rustic barns and vineyards. Opt for an alfresco ceremony, and let nature be the backdrop to your special day. Be mindful of the heat, and consider providing fans, parasols, or refreshing drinks to keep your guests comfortable.
Seasonal Blooms:
Take advantage of the vibrant summer blooms to create stunning floral arrangements. Sunflowers, roses, daisies, and hydrangeas are just a few of the many options available during this season. The burst of colors will add a cheerful and lively ambiance to your wedding.
Summer-inspired Cuisine:
Craft a menu that embraces the flavors of summer. Fresh fruits, grilled delicacies, and light salads are perfect choices for your wedding feast. Consider serving signature cocktails infused with tropical fruits to keep everyone refreshed throughout the celebration.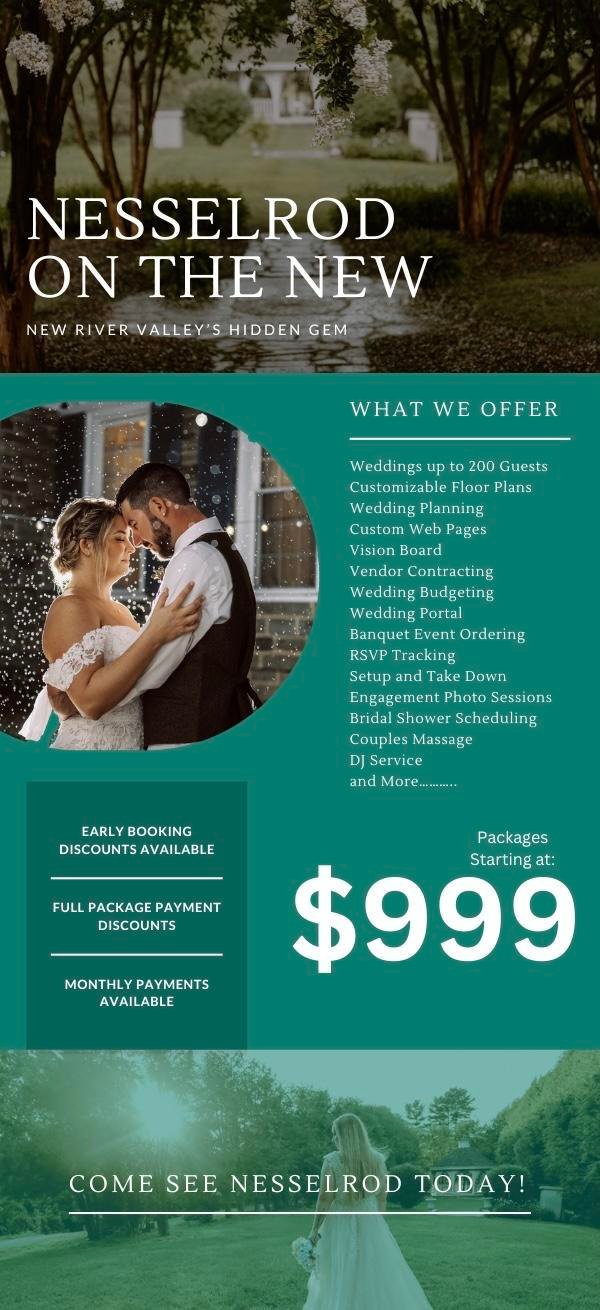 Sundress Code:
Encourage your guests to dress comfortably by implementing a sundress code. Forgo the traditional black-tie attire and opt for light and breathable fabrics. This will not only keep everyone cool but also create a laid-back and relaxed atmosphere.
Sunset Nuptials:
Take advantage of the longer days by scheduling your ceremony closer to sunset. The magical golden hour provides a picturesque setting for exchanging vows, and the cooler temperatures will make it more enjoyable for everyone involved.
Outdoor Extravaganza:
June offers the chance to take advantage of Virginia's stunning outdoor venues, which include scenic gardens, vineyards, and historic estates. Couples can plan an alfresco wedding and provide guests with an opportunity to enjoy the captivating surroundings while celebrating love and unity under the open sky.
     7.  Summer Favors:
Show your appreciation to your guests with thoughtful summer-themed favors. Personalized fans, beach towels, sunglasses, or mini bottles of sunscreen are practical and fun gifts that will be well-received.
     8. Fireworks Finale:
End your wedding with a dazzling fireworks display. The warm June nights provide an ideal backdrop for a magical and unforgettable finale that will leave your guests in awe.
While June may be a slow month due to the heat and vacations, it presents a plethora of opportunities for creating a unique and unforgettable wedding celebration. Embrace the summer charm with outdoor venues, vibrant blooms, and seasonal cuisine. Encourage a relaxed and comfortable atmosphere with a sundress code, and consider a destination wedding to make it an unforgettable experience for everyone. June is a canvas waiting to be painted with your creative wedding ideas. Embrace the warmth, the love, and the magic of summer as you embark on this wonderful journey of love and commitment.